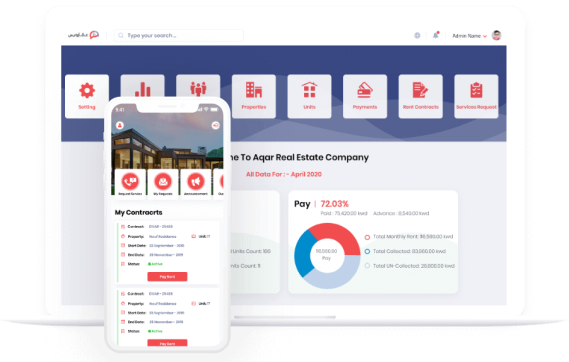 About Aqar W Bas
Management of real estate portfolios and the properties of others - The needs of our customers are among our main goals, so we can provide all services to achieve this goal to preserve the value of their real estate properties, whether these services are financial or administrative related to real estate. Rentals - We provide high quality customer service by providing their needs, whether they are looking for shops, apartments, complete buildings, investment/residential spaces. Real estate development and evaluation - Our expertise includes all types and sizes of real estate, whether commercial or residential, and real estate for special purposes.
System Features
Explore a variety of below exciting system features with capability to customize them to perfectly suit your unique preferences!
Tenant Registeration
Log in as a tenant to review your contracts, pay your rent, and request a service.
Online Payment
A system for tenants to pay their rents.
Collector Registration
A system for collectors to collect rents from tenants and follow up overdue rents.
System Components
Aqar Management System
Website Full Theme
The subject matter of the whole property: A real estate program that specializes in managing lease contracts for real estate establishments in the real estate sector or affiliated with owners. We offer you the best integrated and simple real estate system through a group of sections: Real Estate Management Department: A section that contains all the details of adding and displaying real estate, units, and lease contracts, with automatic scheduling of payments, in addition to the possibility of adding expenses at the real estate or contract level.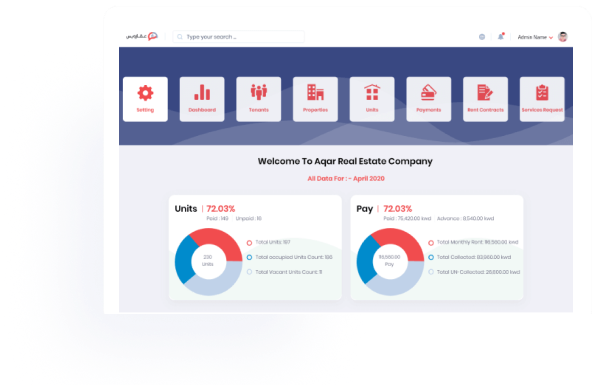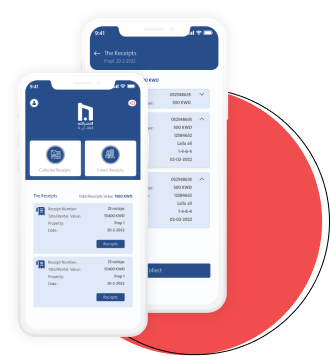 Full System For collectors
The collector can login to the application in order to be able to follow up the rent invoices attached to him, indicating all the details of the bills and their units. It can also collect the bills due from the tenants through the application and view collected invoices Collector also can follow up overdue rents for tenants.
Mobile App System
The tenant can follow up on his real estate through the application. He can also pay his rent through electronic payment methods. Through the application, he can also obtain some services such as: Submitting a service request, following up on his service requests, submitting a request for eviction, and requesting to update user data.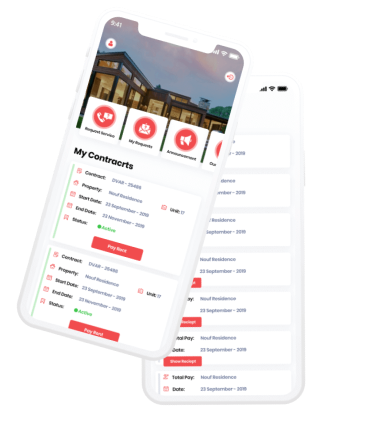 System Users
All System Users
Property Manager
Financial Manager
Property Manager
Maintenance Manager
Tenants
Contact Us
Email us and let us help you get in touch
Phone Numbers
0020502326789
0096598805353
Location
Arzan Financial Group Tower, Mezzanine, Ahmed Al Jaber Street, Sharq, Kuwait City.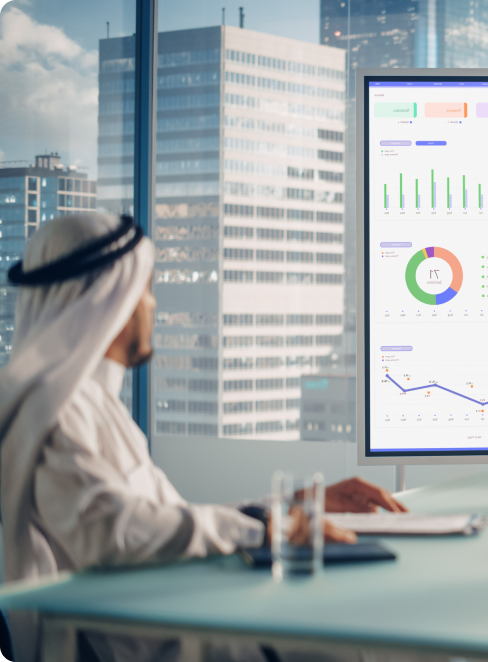 Request A Demo
Talk to us at any time
Download Everything You Need
Here you can get to know more about our website
Our Client
Meet our clients